Brain Assist - Orange Slice - 15 pack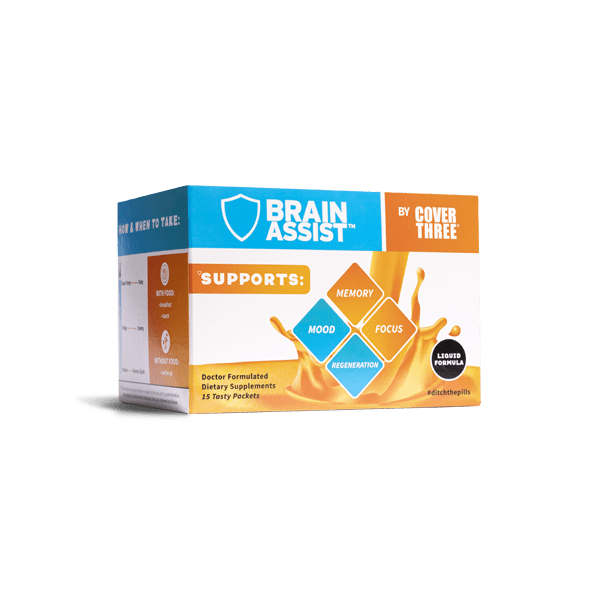 Brain Assist - Orange Slice - 15 pack
---
Order multi-box to stock up and save big
| | | |
| --- | --- | --- |
| | | |
| | | |
| --- | --- | --- |
| | | |
Brain Assist by Cover Three is the only brain health supplement built to support the high-performer's brain on all three levels. Physical. Mental. Emotional.
If a single box sounds like what you need to do before you make the Cover Three into a daily habit and a subscription, select "One-time purchase".
FOCUS & REMEMBER BETTER. IMPROVE MOOD. REGENERATE FASTER: The powerful blend of ingredients is helpful to take anytime you have a big day ahead. Whether it's for performance at work, memory during a packed study period, focus during your favorite physical activity, or regeneration after you put yourself through strain - just one packet on a regular basis will support you.
POWERFUL & CONVENIENT LIQUID FORMULA: The key to any supplement is how effective they are in your body. Our liquid formula is more bioavailable than dry powders and pills. Plus, no mixing, stirring, or blending is required. The packets are ready to take on the go.

DELICIOUS TASTE WITH NO AGE RESTRICTIONS: Brain Assist is a tasty, all natural, and safe supplement that is great for the whole family.
DOCTOR FORMULATED: Brain Assist is formulated by a naturopathic doctor with an active lifestyle. The product is manufactured in the USA, in an FDA-approved facility following strict Good Manufacturing Processes (GMP).
"When it comes to overall brain health, just adding certain supplements will sharpen your brain"
Bindya Gandhi, M.D
Integrative & Functional, Family Doc
100% No Brainer Policy

We offer a 100% money back guarantee for any unshipped product.